alrighty then..
since my last post we've participated in 2 more races - 1000km Grand Prix Riga (
http://www.1000km.lv/index.php/en/news.html
) and a 555km Lithuanian long distance championship event (
http://www.balticendurance.eu/en/
).
firstly, the race in Riga, September 1st.
well, we had our fair share of problems..
the engine blew during practice - i.e. hole in the block.. - the exact problem is not yet clear, since we haven't yet had time to take the engine apart. but it seems to be some sort of an oiling/oil pressure issue.. we'll see.
anyways, with the help of our very very good friends, the Latvian Alfa Romeo Owners' Club, we found a 3.0 V6 24V from a crashed 166. since there were no other options, we simply changed the motor overnight and went racing the next day with a completely standard motor, with only one exception - we had a map for a standard 3.2 V6, so it was uploaded to the KMS ECU.
had a wet start, then the weather cleared and after 2 first wet stints, we have changed to slicks.
only the racing line was dry(-ish), so it was quite risky since you have to quite often overtake slower cars, which means getting onto the wet. but the tarmac helped - it is really abrasive there, so no major puddles or rivers..
the first few hours where good, climbed to 2nd place overall..
then some unexpected problems - the gearbox oil pump stopped working, breather pipe got loose, spitting oil all over the place. lost quite a bit of time here..
in addition, a tire blew. we tried to use harder dunlop slicks on a stint (instead of the usual michelins), and the reason probably was insufficient pressure, we did not know that..
still, the net result was not that bad - 2nd place in class and 5th overall.
but knowing that we potentially could have been on the top.. that was bit disappointing.
more photos ->
https://www.facebook.com/media/set/?set ... 551&type=3
-----
555km race in Lithuania, October 6th.
this was the main race of the season - speaking in terms of the championship positions.
the preparation was unusually calm - everything was working, nothing to change overnight..

i guess some reliability issues are getting solved along the way.. of course, using an unmodified 3.0 V6 (i.e. less power) helps in that sense..
the weather the whole weekend was really unpredictable. every forecast web site had it's own mind about when the rain should come, etc. anyhow, it was wet and cold..
qualification was, let's say, not that interesting.. we did 3 laps on intermediates, and the the rain soaked the track, so no point in punching in slower lap time and using up the full wet tires..
qualified in 5th position.
had another wet start. an interesting fact - in the previous ~5 years of racing the 155 we have never had a chance to put the full wet tires on the car. and this season we had 2 wet races out of 4.
all went well, but sadly for only about 40 minutes..
then the front left wheel fell off, literally.
a scary moment.. luckily, it happened in a slow corner, both the driver (a slight shock

) and the car (torn bumper) were basically OK.
all 4 wheel bolts were 'gone'.
we managed to get the car on the evacuator, get it back to the pits, changed the whole upright, patched up the bumper and after about 1 hour the car was back on track.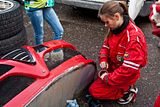 the reason for this whole wheel falling off was quite simple - since our friends with the Alfa 155 did not participate in this race, we borrowed a few wheels from them - due to the unpredictable weather, we did not want to have only rain tire or only slicks - we needed to have both tires ready. they use different wheel nuts - i.e. those nuts have a different cone and the contact point between the nut and the wheel was bad, thus causing the nuts to loosen and allowing the brake disc to shear the bolts clean.
no wheel borrowing from now on. it's a pity, that gaining this 'knowledge' was so costly..
the rest of the race was 'normal'. the car was fine. finished 3rd in class and 12th overall.
more photos ->
https://www.facebook.com/media/set/?set ... 551&type=3
a short video ->
http://www.youtube.com/watch?v=_t0U1JVlz7I
so, we ended the season 2nd in class and 4th overall. not that bad, i'd say, for a young team..
had quite a lot of unexpected and 'unnecessary' dramas during the season, who knows how it would have been without those..
but that's racing. and that's the good thing about it - you never know..
we've learned a lot, matured as a team.
we will definitely be stronger and quicker next season, no doubt about that.